Star Tech Video Sender
The STARTECH 910 XT/XR VIDEO SENDER is a complete wireless Audio/Video transmission and reception device between RF signal transmitters and your TV sets or VCR's at home. The Audio/Video programs from one VCR can be transmitted to all TV sets at home (one transmitter at VCR and one receiver each at every TV sets)

STARTECH 910 XT/XR VIDEO SENDER can also transmit the Audio Video signals from a Camcorder to all TV sets and is especially useful for monitoring infants at home.

STARTECH 910 XT/XR VIDEO SENDER is a very convenient device for watching VCR tapes at poolside, patio, workshop. bed or any rooms at home, while your children are still watching their own regular TV programs or viseversa.

STARTECH 910 XT/XR VIDEO SENDER can also be used for monitoring TV games, computer programs, monitor camera, Laser Disk, movie cameras, CATV, CCTV's, Satellite TV's an other base-band video converters which provide an audio/video output.

This system helps save money by eliminating the need for the second or third VCRs.

The operating range of this system is up to 100-120 feet, depending on the types of house contraction partitions and obstacles between transmitter and receiver.

STARTECH 910 XT/XR VIDEO SENDER world on the frequency range of 902-928 MHz which is a new microwave band allocated to use by FCC.

We highly recommend that the Star Tech video sender be used in the same room to achieve the best results.

The Star Tech video sender will transmit your laptop computer image to your big screen TV. The video sender is a great teachers aid capable of broadcasting an audio or video signal to a multi-media projector. To order click on the link to the Atari Orderform at bottom of page and place in the Comment's Box. Price is $30.00 plus S/H.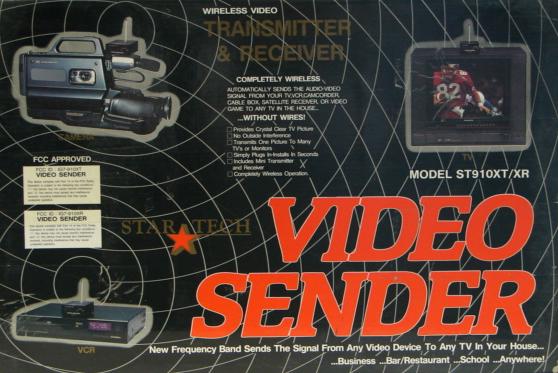 The Star Tech Video Sender/Receiver box.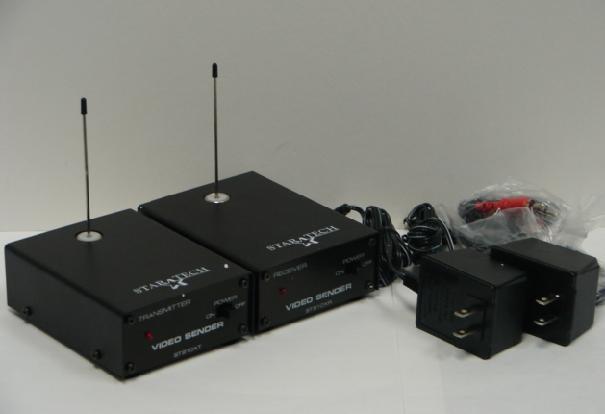 All items included with the video sender; video sending/receiving transmitters, hook-up cables





Atari Order Form
(Make sure to fill order in Comment's Box)